Our teams play good, fair and attractive football…
Darlington Young Bulls are a family-friendly club situated in Darlington which was established in 2013.
We have a number of teams playing in different leagues across the North-East from Under 7's all the way up to adult football. We also have an invested interest in expanding our girls' section.
We have exceptional facilities at Blackwell Meadows and ensure all of our Managers and coaches are DBS checked and have the relevant qualifications to be involved in youth football. We ensure that our teams play good, fair and attractive football and have a great set of boys and girls throughout our club.
We pride ourselves on developing and coaching children of all abilities, offer separate goalkeeper training for all of our goalkeepers and are extremely proud of our FA Charter Standard status.
Up the Bulls!!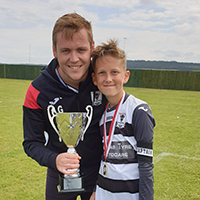 Darlington Young Bulls strive to offer a safe and enjoyable environment for all of the children that are involved with our club. With over 200 players, the club continues to grow and we are always welcoming new coaches, players and parents. We are extremely thankful to all of our volunteers, sponsors and players who have all contributed massively to where the club is today and we are always looking at ways to grow the club even further. We have successfully set up our very first girls team over the past few months and have now set up a pathway into adults football for when our players reach that age category.

Come and be a part of it!
Blackwell Meadows
The Home of Darlington Young Bulls FC